Mobile PET/CT Imaging Service Solutions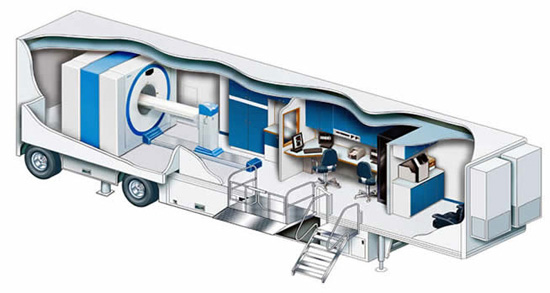 Benefits of Using PET/CT
The combination of both PET and CT imaging allows doctors, especially cancer surgeons, to determine the exact location of a tumor in relation to an organ or the spinal column.
The days of comparing two separate images are over now that PET/CT imaging combines both images and, using special software, provides a colorful image that shows more clearly the anatomical location and metabolic spread of the infected area.
Compared to using both PET and CT separately, PET/CT provides exceptional image quality and accurate diagnostic data for a variety of cancers: breast, cervical, colorectal, esophageal, head and neck, lung, lymphoma, melanoma, and ovarian.
Standard Features

Expandable sides, dual 14' x 2' - emergency crank.

All-aluminum body, monocoque aircraft-style construction.

Custom built steel chassis for extra rigidity.

Air suspension on all axles and fifth wheel.

Rivetless 0.80" side panels, 60% thicker than most mobiles.

Front hydraulic leveling jacks; electrical level indicators.

Rear stanchions, stored in skirt compartment.

Exterior compartments are rust and leak free with electric key locks.

70 kw diesel generator, installed in protected side compartment. Convenient to service. Powers trailer and PET/CT System.

100-gallon fuel tank.

Hydraulic patient lift mounted in protected side compartment, with emergency hand pump.

Easy operating manual sliding door.

Canopy/door covers roll door in transit, protects patient lift at site.

Central power switch controls, safe and conviniently located inside trailer for safety and convenience.

50' shore cable, accessible from both sides.

Easy slide entrance steps and platform are self storing.

All-aluminum metal, hospital-style ceiling, easy to clean and access.

Air distrobution utilizing "soft flow" curtain effect.

Hot lab room front area (cabinets and equipment optional.)

Two separate patient prep areas.

Spacious control room with full counter and cabinets.

Two phone lines and three datalines.

Scan room access through sliding leaded door.

Lead lining provided as required.

European-style cabinetry with push-putton, stainless steel latches.

Dimmable, low density console lighting.

Emergency lights built in.

Towable by standard tractor with proper GVW.

Optional Items:

Hot lab cabinets and equipment.

Sink in scan room.

Emergency escape hatch.

Auto transfer switch.

Custom lettering and artwork.

Basic Specifications:

Length:

46'(14.0M)

Width:

102"(10.1M)

Height:

13'5"(4.05M)

Rear Axle:

35,000 lbs.(15,909 kg)

Total Weight:

57,000 lbs.(25,909 kg)

Power Input:

480 V, 3 phase 60 Hz 150 A

Generator:

70 kw Diesel; Side Skirt Compartment

HVAC:

108,000 BTU cool/18 kw heat